Erkiz Mühendislik
Corporate Information
Erkiz Engineering Construction Food Textile Co. Inc., since 2003, has been operating under the leadership of Civil Engineer and Welding Engineer Hasan TORUNOĞLU in structural steel manufacturing, machine parts manufacturing within the construction and related sectors. It became a group company by joining forces with Şölen Chocolate, a top 50 candy manufacturer in the world, one of the bravest and most innovative companies in Turkey.
Our company manufactures structural steel, steel parts, machinery parts, piping, pressurized/unpressurized tanks, related products and services. We built our new factory and staffed it with technical talent to achieve these goals. Our factory is one of the largest fully automated plants in Europe.  Our factory, which we have equipped with the latest technology, can process 66 thousand tons of products annually at the highest quality standards accepted worldwide.
Steel and Parts Manufacturing: Manufacturing of all kinds of parts from steel and other metal types. We manufacture customer-specific parts for every industry which uses steel parts. Our factory has the industry 4.0 equipment and advanced technology with one of the highest manufacturing capacities available in the world.  These strengths enable us serve all kinds of customer portfolios worldwide.
Piping/Spooling : Longitudinally welded pipe, pipe fittings, piping (spool) Manufacturing
Pressurized / Unpressurized Tanks : Manufacturing of pressurized / non-pressurized vessels, which are among the important equipments used in oil refineries, petrochemical, chemical and fertilizer facilities, facilities producing with special chemical processes, LPG and natural gas storage facilities and iron and steel factories
Structural Steel : Hotels, Schools, Hospitals, Shopping Centers, Stadiums, Complex Buildings, Industrial plants, Factories, Petroleum
Structural Steel manufacturing and assembly of Refineries, Petrochemical, Chemical plants, Hydroelectric, Geothermal and Thermal Power Plants
Engineering : Engineering service in reinforced concrete and hybrid structures (hotels, schools, hospitals, shopping malls, stadiums, complex structures, industrial facilities and factories)
Our certificates;
• EN ISO 3834 – 2 : Welded Manufacturing Competence Certificate, (No: HZ-03410-20-TR-OSY)
• EN 1090 – 2 Exc.4 : Certificate of Manufacturing Competence, (CE Certification) (No: 0408-CPR-TA03409
• TS EN ISO 9001:2015 : Quality Management System Certificate, (No: 201000203007217)
• TS ISO 45001-2018: Occupational Health and Safety Management System Certificate, (No: TR-SC-370)
• Class A Contracting Document No: 0027212126832612
• B II Class Completion: 82,939.52 square meters, with 2020 Current Value, 250.000.000 TL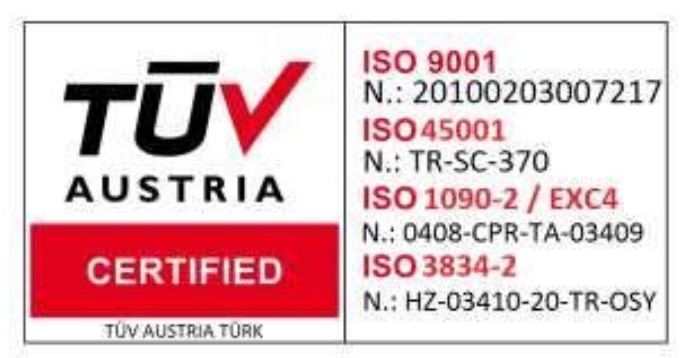 Factory: Our factory is located in Gaziantep 2nd Organized Industrial Zone.  We can manufacture a total of 66.000 tons of products annually in our new factory which spans a total area of 20 thousand m² and enclosed area of 16.500 m².
Our manufacturing is carried-out with fully automatic, fully automated machine systems and on a continuous line. However, we can increase manpower and production capacity when the conditions require it according to the project design and intensity.
[/et_pb_text][/et_pb_column] [/et_pb_row] [/et_pb_section]